The Romance of Train Travel
The fastest and most convenient way to visit the great cities of Italy is by train. The must-see destinations of Rome, Florence and Venice, as well as the equally important cities of Naples, Bologna, Turin, Milan and beyond, are served by a very efficient network of high-speed and regional services. Even the Italians themselves avoid driving in these towns if they can help it, while travelling by train takes you right into the heart of the action, saving all the hassle and time spent having to transfer to and from airports.
With speeds of up to 300kph you will be amazed at how fast getting from one town to another can be, especially when you consider that you only need to be at the railway station just 15 minutes before boarding. Here are some typical journey times:
Rome to Naples — 1 hr 10 min
Rome to Florence — 1 hr 35 min
Florence to Venice — 2 hr 8 min
Florence to Milan — 1 hr 40 min
Milan to Venice — 2 hr 27 min
Rome to Milan — 3 hr 25 min
We are the only agency in Singapore and Malaysia directly authorised by Trenitalia to sell tickets for high-speed train services in Italy. We issue electronic tickets sent as email links for downloading, so you can receive them anywhere in the world as long as you have internet access. Payment can be made online by credit card and there is no booking fee charged. Not only that, you will also enjoy these advantages:
Guaranteed seat assignment for high-speed trains, and no need for further
ticket validation before boarding.
Possibility of changing your departure time through us prior to departure,
with no penalties or extra charges involved.
Combine your train journeys with airport transfers, accommodations and
other land services with a single booking
And if you should miss your train, you can still board the next available train,
up to 1 hour after the original departure time stated on your ticket by paying
a small fee on board.
All this, plus the peace of mind knowing that you won't need to waste any time queuing up to buy your train tickets when you are in Italy.
We now issue e-tickets for regional trains, as well as for trains going to France, Switzerland and Austria!
Contact us now to book your trains, or call us (65)3157-1335 9:30am–6pm from Monday to Friday,
or between 9:30am and 12:30pm on Saturdays.
Did you know…
…that the carbon footprint of taking a train for one person is about half that of driving a car, and only a quarter that of flying from one place to another?
…and that rail passes are actually a more expensive and a much less convenient option than they would at first seem? Rail passes do not include the compulsory seat reservation required for all high-speed trains, which means that you would have to spend your time queuing and paying for this every time you need to take a train. You might get your money's worth if you make 2 journeys a day every day with the slower trains, but then you didn't come all the way to Italy just to spend time taking the trains did you?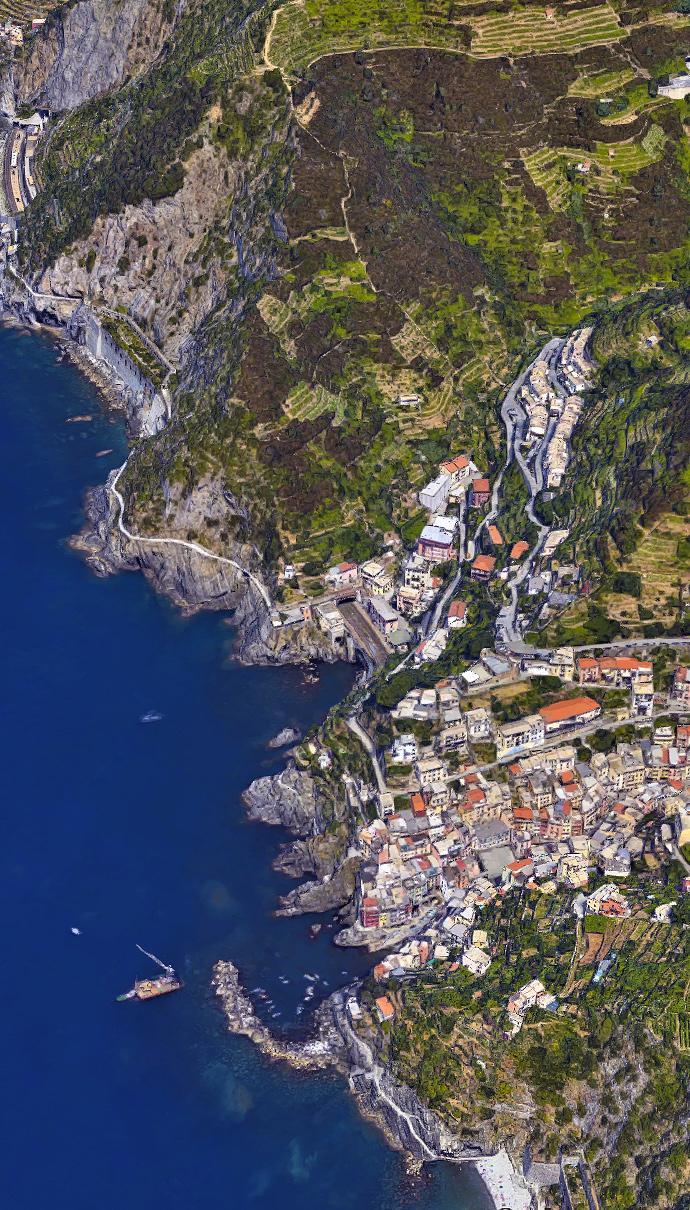 Cinque Terre is best seen by train!