The perfect balance between independent and package travel
One of the unique features of our tours to Italy is that our director Mr. Huang personally leads them, providing valuable insights into Italy and the Italians, having lived there for many years. Now wouldn't it be wonderful if he could lead your own group of friends or relatives?
This is customisation taken to a whole new level. As one of our very happy clients who did just this exclaimed, the intimate local knowledge and fluency in the local language lends an invaluable advantage when it comes to enjoying one's trip. This, together with all the flexibility of time and programme means that your possibilities are practically endless.
Take your children on a learning trip about art and architecture. Share meaningful time bonding with your family in a private cooking class. Spend a few days in a Benedictine monastery and attend private mass with the monks. Visit a real Italian family and savour a home-cooked lunch. Go on a hike through a nature reserve and discover a long-abandoned castle. A private golfing trip with friends perhaps?
Or do you have some interesting ideas of your own? Make an appointment with Mr. Huang and see how he can make this happen for you!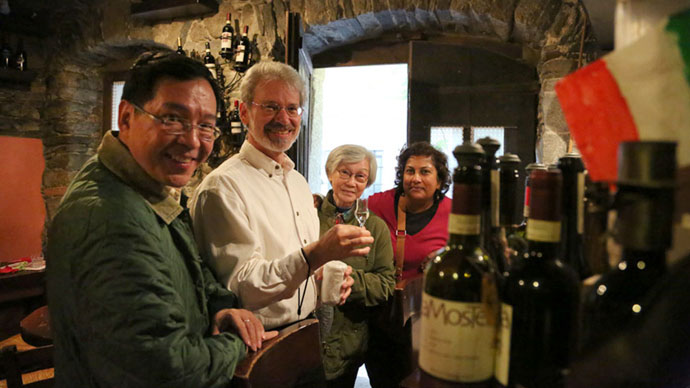 Group size can range from 6 to over 16 persons, but do give us at least 6 to 9 months to plan and arrange this. The larger the group the more risky it will be finding available rooms for everyone at short notice, especially in out-of-the-way towns and villages where hotels tend to be really small!