The fabulous landscapes and delectable cuisine around Turin
The fabulous landscapes and foods around Turin



15 - 28 October 2022
(14 days/13 nights)
REGISTRATION OPEN
15 - 28 October
2022
(14 days/13 nights)
LAUNCHING SOON
Immerse yourself in the wonderfully varied scenery of the region enveloped by the eastern Alps and the upper Appenines, and centred around the original capital of the Kingdom of Italy when it was first established in 1861. From spectacular lakes to majestic mountains, from medieval churches to present-day aristocratic estates, the landscapes of Piedmont will enthrall you as savour the region's unique dishes, produce and wines.
S$6900 per person (twin-share)
S$5660/person (twin-share)
Early-booking price until 30 June 2022
Further reduction for past customers
Booking Form
A deposit of S$1000 per person is required for reserving a place in this tour.
Please fill in the form below and then click PROCEED TO PAY.

Please email us for enquiries and groups larger than 8 persons.
This is what our customers have said:
What a great holiday and such happy memories of our trip to the Piedmont region in Italy!
We were never fans holidaying with tour groups but this one was so different. The itinerary had a good balance of important places of interest with a mix of off-the-beaten track gems that only local would know of.
There was so much to engage the senses. We loved the beauty of the islands and gardens on Lake Maggiore as well as the tranquility of the monastery in Orta San Giulio.
We also enjoyed amazing food including dishes served by some who have been at their craft for a lifetime - pasta made by the 90-year old nonna or the homebrewed grappa up in the mountains. And for those who love truffles, the truffle fair in Alba is a must!
On top of all these, we were blessed to have a knowledgeable guide and great travel companions. It felt like a holiday with the extended family (but without the bickering!) 😊
Nik & Raymond Yim
October 2018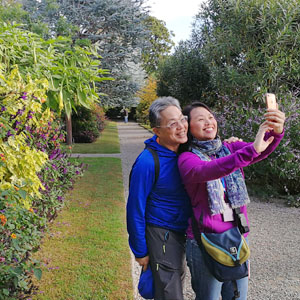 We went on the gourmand tour in the Piedmont and found another wonderful Italy. Fabulous little restaurants with great food, some in out-of-the-way places with stupendous views… beautiful locations and scenery… friendly and knowledgeable local guides who wanted to answer questions. Ergo: Travel arranges tours to get you immersed in the history, beauty and fabulous food and wine that Italy offers! Great way to experience Italy and definitely worth repeating.
Dr. Michael Kelly
Oct 2012